Adaptive Sports Iowa Cycling Team

Adaptive Sports Iowa Cycling Team Presented By Iowa Farm Bureau
Register's Annual Great Bike Ride Across Iowa (RAGBRAI®)
Adaptive Sports Iowa (ASI) recognized that cyclists with disabilities face many barriers that limit the accessibility of  RAGBRAI. ASI organized this team to reduce the impact of these barriers and make RAGBRAI accessible and enjoyable to cyclists with disabilities. The team was first organized in 2011 and consisted of 24 riders, 11 of which had physical or visual disabilities. Today, our team regularly reaches up to 80 riders with 30 or more riders with disabilities. Since our first ride, we have looked to increase our numbers and provide a great experience for those that love cycling. Thanks to our generous sponsors and volunteers, RAGBRAI has become a strong tradition for the Adaptive Sports Iowa Cycling Team.
Presenting Sponsor: Iowa Farm Bureau. Together we are FARM STRONG®
The Iowa Farm Bureau is proud to celebrate farmers and all Iowans who summon the strength to do more, be more.  Those individuals who don't have an ounce of quit in them.  Those who are Farm Strong®.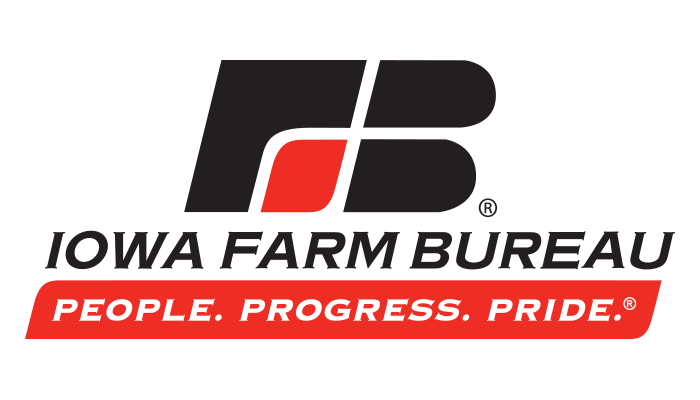 Eligibility
In order to participate in RAGBRAI as a member of the Adaptive Sports Iowa Cycling Team Presented by Iowa Farm Bureau, we require all cyclists  to be able to self-propel or physically assist in the population of a cycle. We approach RAGBRAI as a major endurance event and our cyclists need to be prepared accordingly.
Joining our Team
If you are interested in joining our team as a volunteer or cyclist with a disability please contact us at 888-777-8881.
Amenities
All Adaptive Sports Iowa Cycling Team Presented by Iowa Farm Bureau members with physical and vision disabilities are provided the following amenities:
Team cycling jersey
Accessible transportation from Des Moines to the starting location, and from the ending location back to Des Moines
SAG Crew to help transport overnight essentials between overnight stay locations
Support crew and vehicles to transfer wheelchairs and other essential equipment
Accommodations for overnights that are indoors and accessible
Overnight Locations
2019 RAGBRAI® ROUTE
| | | | | |
| --- | --- | --- | --- | --- |
| Date | Town | Mileage | Climb | Special Note |
| Saturday, July 20, 2019 | Council Bluffs | – | – | – |
| Sunday, July 21, 2019 | Atlantic | 58 | 2,592 | Gravel Loop |
| Monday, July 22, 2019 | Winterset | 68 | 2,044 |   |
| Tuesday, July, 23, 2019 | Indianola | 39 | 1,443 |   |
| Wednesday, July 24, 2019 | Centerville | 78 | 2,977 |   |
| Thursday, July 25, 2019 | Fairfield | 65 | 2,328 | Karras Loop |
| Friday, July 26, 2019 | Burlington | 57 | 1,626 | College Spirit Day |
| Saturday, July 27, 2019 | Keokuk | 62 | 1,725 | Tire Dip |
| Total |   | 427 | 14,735 |   |
Training Plan
Click to view the 12 Week Training Program for Handcyclists
Click to view information on Understanding the RPE Scale & Nutrition
Packing List
DAILY NEEDS
Water Bottle
All-in-one Tool
Bike Lock
Camera
Electrical Tape
Road ID
Helmet
Patch Kit
Spare Tube
Tire Lever
Pump or air cartridge
Cycling Gloves
Appropriate footwear
Portable electronic device charger
Plastic waterproof case
Ziploc case
Zip Ties
Cash/Credit Card
Health Insurance Card & ID
Sunscreen/Lip Balm
Toilet Paper
Air Mattress
Catheter Supplies
CLOTHING
Hat
Cycling/Riding shorts (2-3 pair)
Sunglasses
Swim Suit
T-Shirts (2-3)
Underwear (3-5)
Shorts (1-2 pair)
Pants (1)
Rain Jacket
Biking Shoes
Biking Socks
Cycling Gloves
Sandals/Casual Shoes
TOILETRIES
Prepackaged Wipes
Disposable Razor
Eye-Drops
Q-Tips
Shampoo
Anti-Chaffing lotion
Soap
Deodorant
Soap to wash clothes
Toilet Paper
Tooth Brush & Toothpaste
Prescriptions
Band Aids
MISC.
Bug Spray
Ear Plugs
Gum
Ziploc Bags
Sleeping Bag or Sheets
Small Pillow
Towel
DO NOT PACK!
Cooler
More then one overnight bag
Camping gear
You can download the packing list here:
Download
If you're a passionate cyclist, we would love to see ride with the Adaptive Sports Iowa Cycling Team presented by Iowa Farm Bureau for the next ride! Contact us to learn more and get registered today!
[/av_textblock]